The Regions of Turkey
Choose a Region
Click the region on map to find out more
Aegean Region
The Aegean Region is an agricultural cornucopia centred around Izmir, a city located on a splendid gulf opening onto the Aegean. It is fed by a number of rivers rising in the east and fed from the Central Anatolian Plateau, the most notable one of which is the Menderes, or Meander of ancient times. The reliable summer climate produces olives, figs, pears, peaches, apples, sunflowers, tobacco, cotton, grapes and the world famous sultanas from the Sultan mountains as well as an astounding market garden.
Black Sea Region
The Black Sea coast of Turkey is about 1700 kms long, rising to the mountains of the Pontus range as the country joins the Caucasus and the border with Georgia in the east. The country is lush and green with an annual rainfall of approximately 780 mm per year. It is frequently cloudy and dramatic. This is where cherries originate and about 80% of the world production of hazelnuts is from the eastern Black Sea region with tea being another substantial crop. The region`s lush grasslands produces superb cattle and wonderful dairy produce. Temperatures range from -8 C/18 F to 40 C/104 F, with an average humidity of about 72% and high winter snowfalls.
Central Anatolia
Central Anatolia is a plateau ringed by mountains, with an elevation of 900m/ 3000ft and has a predominantly steppe climate. As with Eastern Anatolia the principle geographic features are volcanic with Mt. Hassan and Erciyes. These two volcanos produced the extraordinary "moonscapes" of the Cappadocia area. The region produces a wide variety of agricultural produce from wheat and apricots and peaches to grapes supplying the wine industry around Cappadocia. Temperatures range from about 25 C/ 13 F to 40 C/104 F, with minimal rainfall of only 382 mm/15 inches per year. The average humidity is 62%. Winters will see significant snow and skiing can be enjoyed on Erciyes.
Eastern Anatolia
The East Anatolia Region is mountainous, rugged and formed by volcanic activity. There are a number of volcanos (dormant) that dominate the region and which form the regional "back bone." To the region`s north there are Mt. Ararat (a classic stratovolcano with a permanent ice cap) and the extraordinary landscapes formed by Mt. Tendurek, a shield volcano. To the south there is a ring of dormant volcanos circling Lake Van: Suphan (stratovolcano) Artos and Nemrut, a caldera with hot and cold lakes on the interior floor. Regional temperatures may drop to - 43 C/ -45 F in winter, and rise to 38 C/100 F in summer. During the winter one can ski at Palandöken just outside Erzurum, Sarıkamış near Kars and on Artos or Nemrut Caldera around Lake Van, a significant endorheic soda lake at about 2000 m/ 6500 ft in elevation. Rainfall is 560 mm/22 inches. Agriculturally the region is fairly marginal but does produce wheat, fruit and nuts in a short growing season. The mainstay is pastoral with sheep and goats predominating.
Marmara Region
This region envelopes the Sea of Marmara and the Dardanelles and includes the cities of Istanbul, Bursa, Izmit and Edirne. Turkey`s only European portion, the flat plain of eastern Thrace is part of the region. South of Marmara the countryside is characterised by rolling hills where a wide variety of fruit and market garden vegetables are produced. Near Bursa is a mountainous range featuring the ski resort and national park of Uludağ, the ancient Bithynian Olympus. The countryside around Istanbul, Edirne, Bursa and the Sea of Marmara is low hills and rolling farmland, excellent for fruit orchards (apricots, grapes, peaches) as well as vegetables, sunflowers and grain. Annual temperatures range from a low of about -16 C/ 3 F in winter to 40 C/104 F in summer. The region can be humid with an average of 73%.
Mediterranean
Turkey's southern shore is a narrow coastal band hemmed in by high mountain ranges. From Fethiye to Antalya, where the coastal strip widens to form broad agricultural plains, and on eastward to Alanya are to be found Turkey`s most famous and popular resorts, dominated by mile after mile of white sandy beaches. At Alanya the mountains once again join the sea ensuring that this coast is hot and humid in summer. Maximum temperatures are around 45 C/ 113 F with a seasonal winter minimum of about -5 C/23 F. Rainfall is 777 mm/31 inches per year but water is in plentiful supply from the springs and snow melt of the mountains and Central Anatolia
South Eastern Anatolia
This region is hot and dry in what is a long summer and is dominated by two of the wider region`s most prominent and famous rivers, the Tigris and Euphrates. Winters are wet but there may be snow. Temperatures range from 46 C/115 F in summer to occasionally as low as -12 C/10 F although most winters are wet with temperatures around the 0 to 10 C mark (32 to 50 F mark). The region is very dry in summer, with only 576 mm/23 inches of rainfall, but the extensive Southeast Anatolia Project (GAP) irrigation and hydroelectric power system located at the Ataturk Dam near Şanlıurfa provides a year round supply of water for agricultural projects as well as industrial and civic use. As a consequence of the GAP system the region has three growing seasons and is a major producer of wheat, maize and pistachios. In fact, it is from Karacadağ, that the very first domesticated wheat (einkorn) first emerged in the Neolithic period about 10,000 years ago.
Cities of Turkey
Turkey's Famous Cities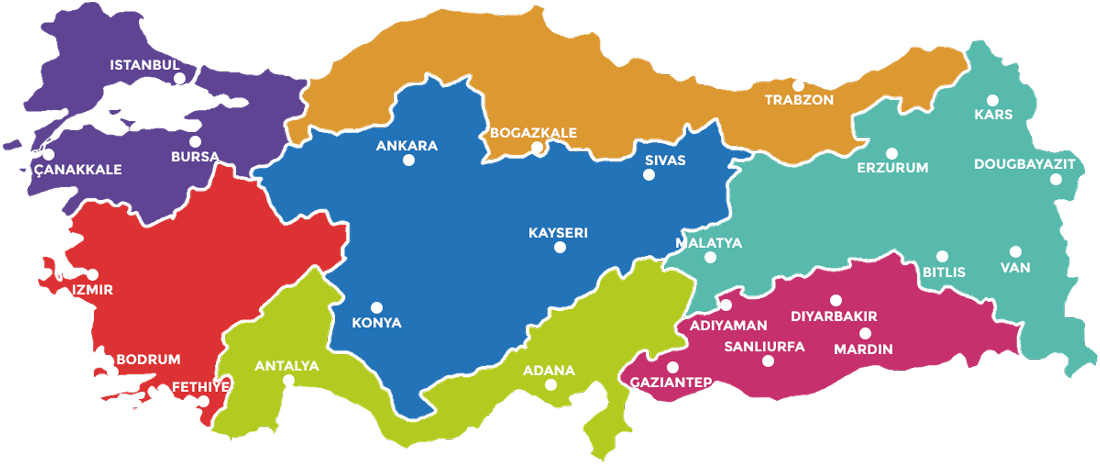 Click the region on map to find out more