Marmara Region
Main Region
Get a Taste for your Trip
Tour Summary
Inspiring places of interest, scrumptious food, imaginative art, sweet sounding music, culture and history.
Our short breaks experience takes in all the sights, tastes, cultural and historical wonders Istanbul has to offer. Istanbul Tours can be organised for 3, 4 or 5 days either as standalone tours or as the start/end of a bigger tour programme. They can be themed around the many exciting things that Istanbul has to offer or just designed to give you an action packed city experience! Every tour is a designer tour. Alternatively, enquire about our fantastic self-guided options.
Istanbul was capital to three great world empires: the Roman Empire, the Byzantine Empire and the Ottoman Empire. Known as the "City of the World's desire," Istanbul straddles the Bosphorus, that narrow strip of water separating Europe from Asia, and has been for millennia, a cultural confluence of East and West.
There are many cities around the world that call themselves a "World City" but none of them can quite match Istanbul.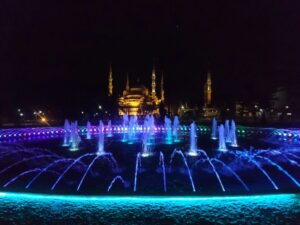 Founded in this location by Greek colonists in 657 BC because of its fabulous harbour and named Byzantium, the city was inaugurated by Constantine the Great as the capital of the Roman Empire in 330 AD. With the collapse of the Empire in the west, Constantinople became the sole inheritor of Rome's cachet and its cultural riches. Captured for the Ottomans by Sultan Mehmed II on the 29th of May 1453 the city became the Ottoman capital. He was 21 at the time.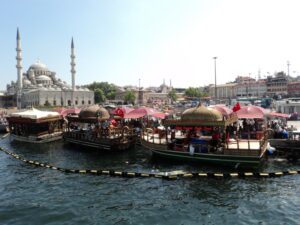 Istanbul must be one of the most photogenic cities in the world with a skyline that is instantly recognisable. Once one has gone beyond the modern, bustling city of Istanbul, in many respects the city remains, as it was in ancient times, an agglomeration of towns and smaller villages. The many neighbourhoods of the city, on both sides of the Bosphorus, still retain their distinct characteristics. From the quiet, car free Prince's Islands to bustling Kadiköy, from Polonezköy, once a settlement of Polish refugees in the 19th century and Arnavutköy once home to a sizeable Albanian and Jewish population, all the way up to the neck of the Bosphorus and Anadolu Kavagi where a medieval Genoese castle guards the entrance to the Black sea. And it was here where Jason's ship, the Argo, ran the gauntlet of the Symplegades – the Clashing Rocks – on his journey to Colchis in search of the Golden Fleece.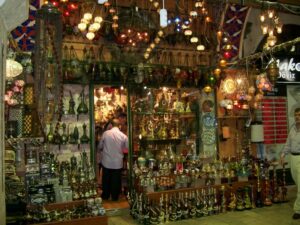 The Trip Planned Out
Your Itinerary
Day 1 - The Old City

Aya Sofia & Imperial Tombs
Topkapi Palace & Harem. Archaeologal Museum. Cinili Chalet
Basilica Cistern
Gülhane Park.
Dinner in Buhara 93, Nakilbent Cad. Sultanahmet

Overnight Istanbul.

Day 2 - Hippodrome & Bazaars

Blue Mosque. Mosaic Museum & Arasta Bazaar. Hippodrome. German Fountain.
Divan Yolu. Burnt Column. Covered Bazaar.
Dinner in Kumkapi District.

Day 3 - Imperial Mosques & the Golden Horn

Suleymaniye and Royal Tombs
Rüstem Pasa Mosque. Egyptian Spice Bazaar.
Ferry up the Golden Horn from Eminönü to Imperial Mosque at Eyüp
Return to Galata Bridge by ferry
Dinner at Pandeli. No 1 Misir Çarsisi, Eminönü

Day 4 - Crossing the Bridge and Pera

New Mosque. Galata Bridge.
Divan Literature Museum (Dervis & Mevlana). Tünel- funicuiar railway.
Istiklal Cad to Taksim. Shops. Ciçek Pasaji. Avrupa Pasaji. Balik Pazari
Taksim return to Istiklal- Galata Tower. Karaköy
Dinner: Karaköy Lokantasi, Kemankes Cad. No. 27 A

Day 5 - Bosphorus

Starting at Eminönü. Catch scheduled Municipal Ferry for Bosphorus Cruise. 2 hours each way. Two hour turn around at last stop on the Asian side, Anadolu Kavagi. Visit the Genoese castle of Yorgos overlooking the entrance to the Black Sea. Lunch in one of the many excellent fish restaurants. Return to Eminönü and watch the rush hour ferry mayhem- it's one of the wonders of Istanbul!
Tour Price
$705

per person

Regions Visited

Marmara Region

Fitness Level
Moderate - Able to walk 2 kms over possibly broken ground with incline.
What is included?

All road transport (tolls etc) English speaking guide All state and local taxes All museum and site entries

What is not included

Lunch Personal expenses Beverages Insurance (unless otherwise stated)

Terms & Conditions
Please note that there is a 15% surcharge for single room occupancy.
Please note that it is essential that you have purchased travel insurance for all parts of Turkey. It is your responsibility to organise the correct cover but we are happy to advise.