The Golden Horn, the main artery of ancient Byzantium and now modern Istanbul, is a perfect harbour. One of the Great Harbours of the World. When the founders of Byzantium colonists from the Greek City of Megara, established their colony on this perfect but mystifyingly unoccupied natural harbour in around 657 BC, they couldn't understand why the people across the strait in the well-established city of Chalcedon, the ancient name for Kadiköy, had missed it! It seemed such a strange mistake that they called the city of Chalcedon, the "City of the Blind."

We like to think that they just looked at things differently and to be honest, they still do. Maybe they weren't so much blind as clairvoyant because Kadiköy today is perfectly located. Kadiköy is a Bohemian and eclectic mix of artists, antique shops, restaurants, bars and markets, clustered around some Greek Orthodox and Armenian churches and a busy mosque complex, in the district where the centre of ancient Chalcedon used to be.
Article continued below…

When I say "Bohemian" I don't mean in a louche, disreputable, theatrical kind of way, although there is an element of that. I mean "Bohemian" in a cosmopolitan, arty and tolerant way where eccentricity is welcome. After all, where else would you stroll into a park to see that locals had decorated the trees with crochet designs?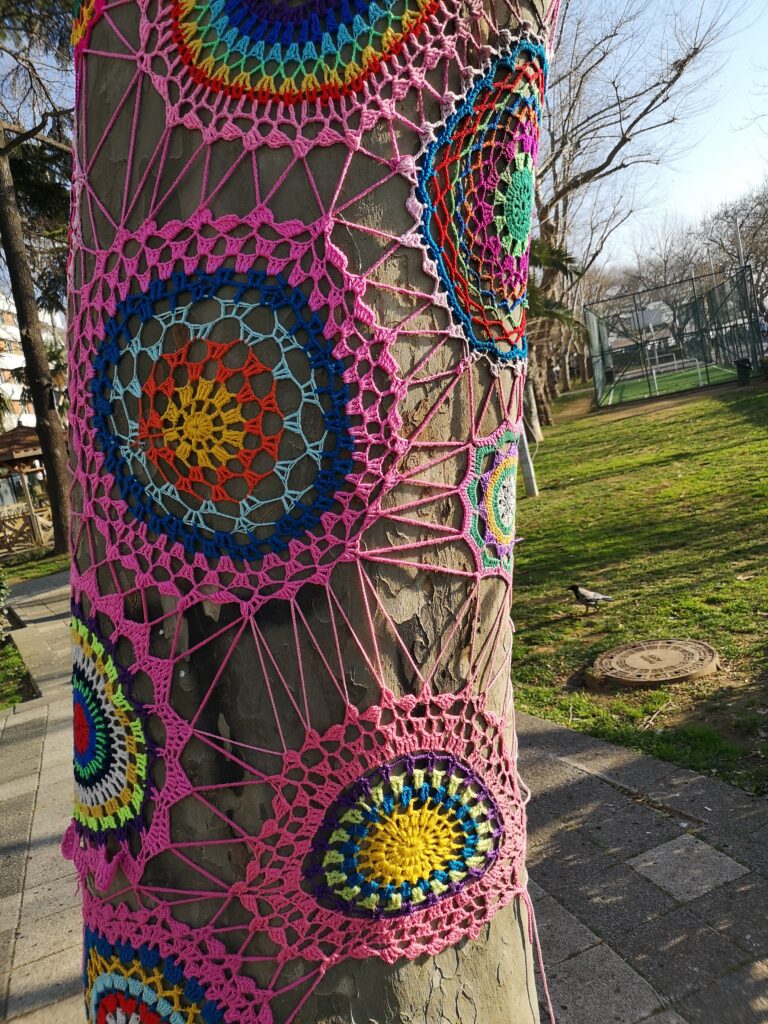 Kadiköy is handily ringed by the circular route of a 1940's single car tram, which cheerfully rattles and trundles its way round Kadiköy every 20 minutes or so, ringing its bell, taking in the fashionable district of Moda, Kadiköy's upmarket neighbour.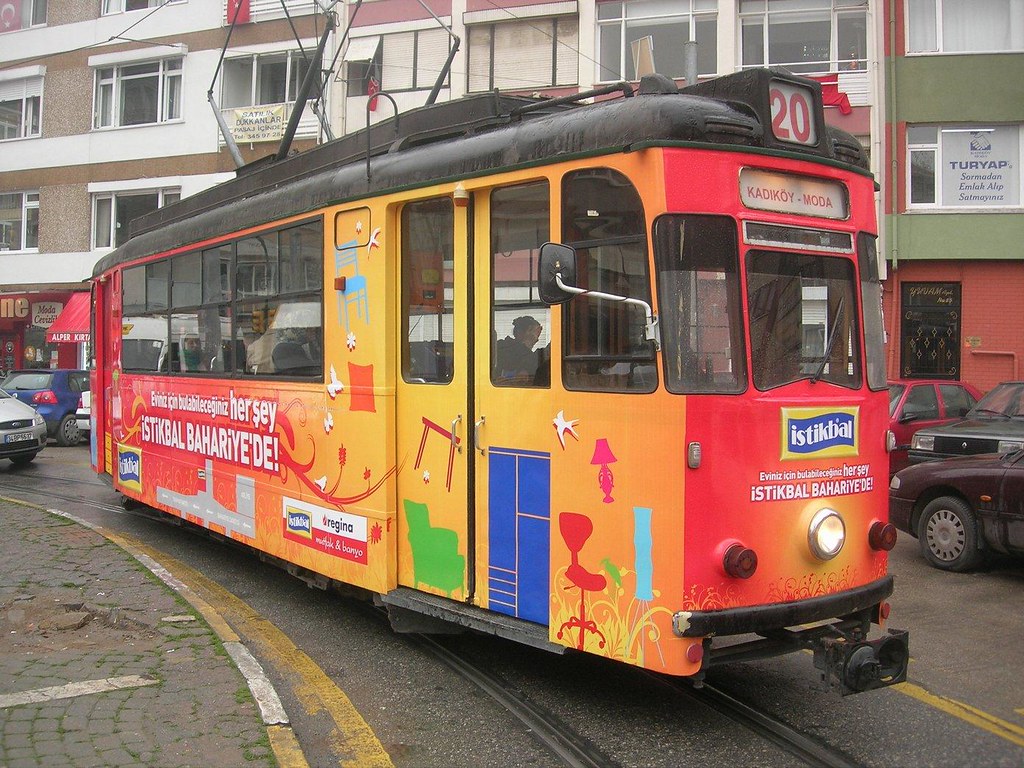 It's a great way to start you off on the amazing street art peppered around these two districts. From the small to the huge, occupying entire buildings, street art and murals are everywhere.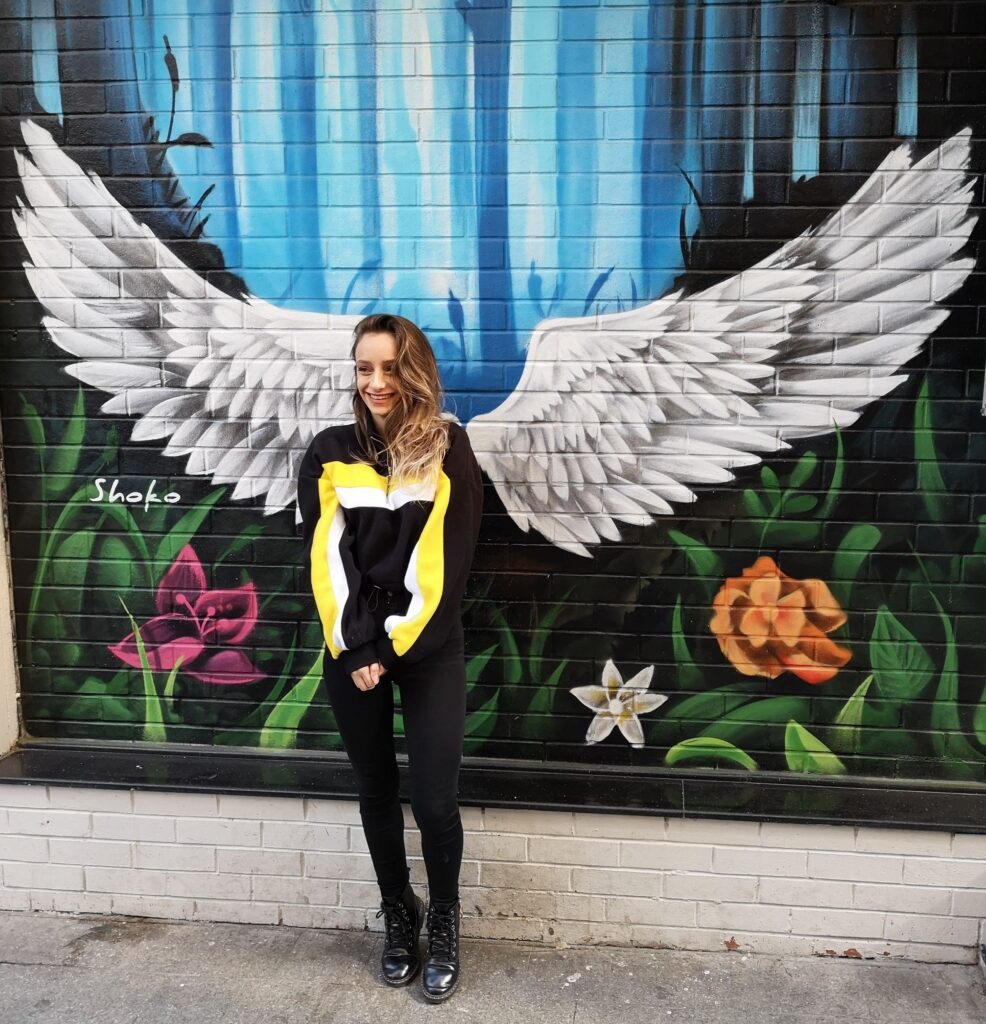 There is a comfortable atmosphere between established residents, arty newcomers, visitors and the varied and friendly population of street dogs, well fed and indulged, who can be found sleeping in corner sun traps or tucked up inside shop doors just where the heating systems blow down on them. Then there are the cats who sleep in shop windows or tucked up in open market stalls. They are no trouble and along with the striking street art and murals, are part of the unique ambience of this charming place.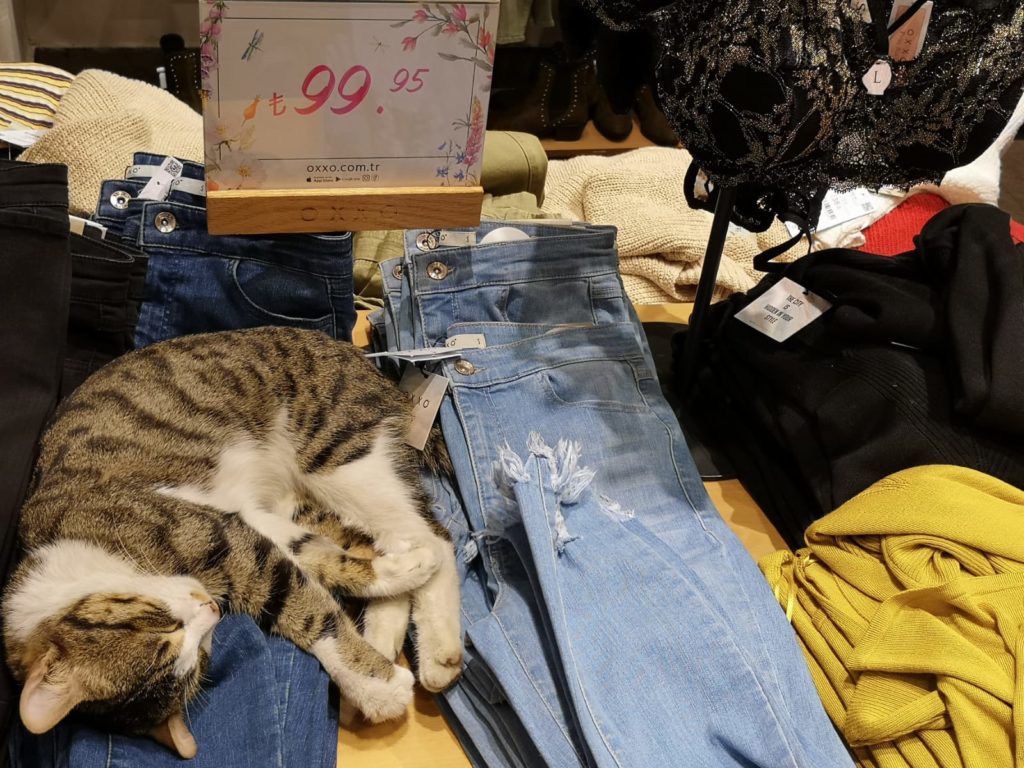 You first arrive at the busy harbour just by the Neo Classic Haydarpaşa station which was once the gateway to Anatolia. At the harbour there is a scrum of buses and Dolmuş minibuses ringed by food stalls and kiosks selling sundry items.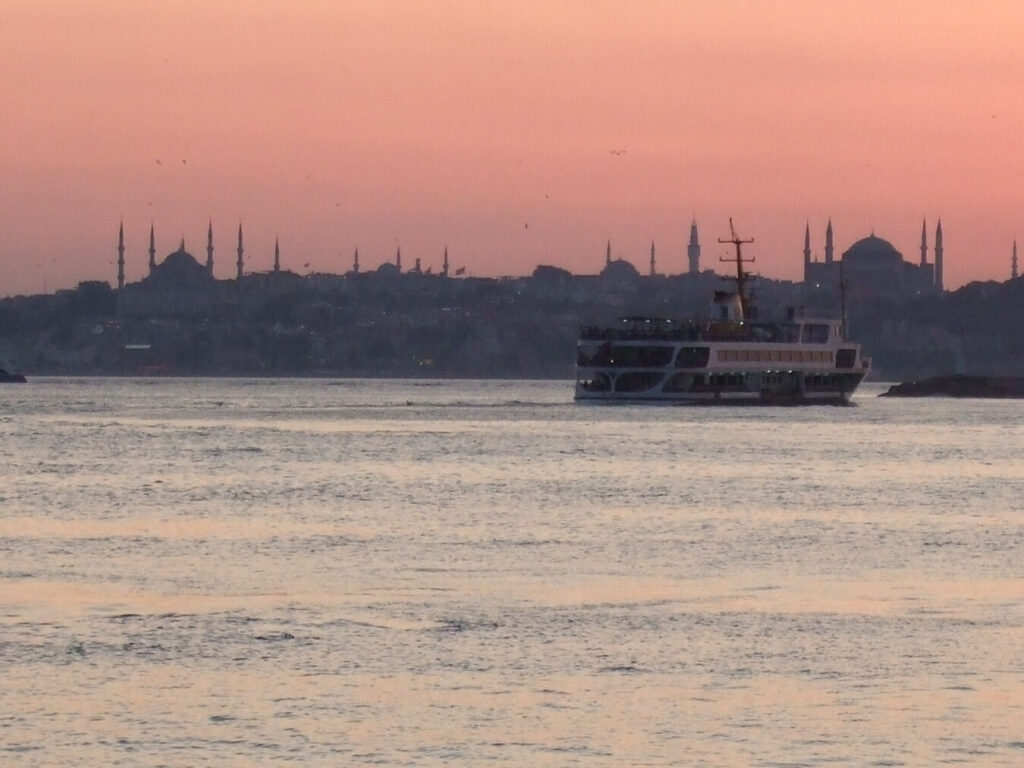 Once you've crossed the busy main road and the tramline you enter a warren of pedestrian streets where the food and fish markets are and where there are bars and restaurants that cater to varied demands from the sophisticated tastes of well-heeled residents to the simpler tastes of the working folk of Kadiköy and Moda.
There's a babble of business you'd expect from a place like this but everywhere there are islands of quiet and groups of people just soaking up the atmosphere and enjoying themselves.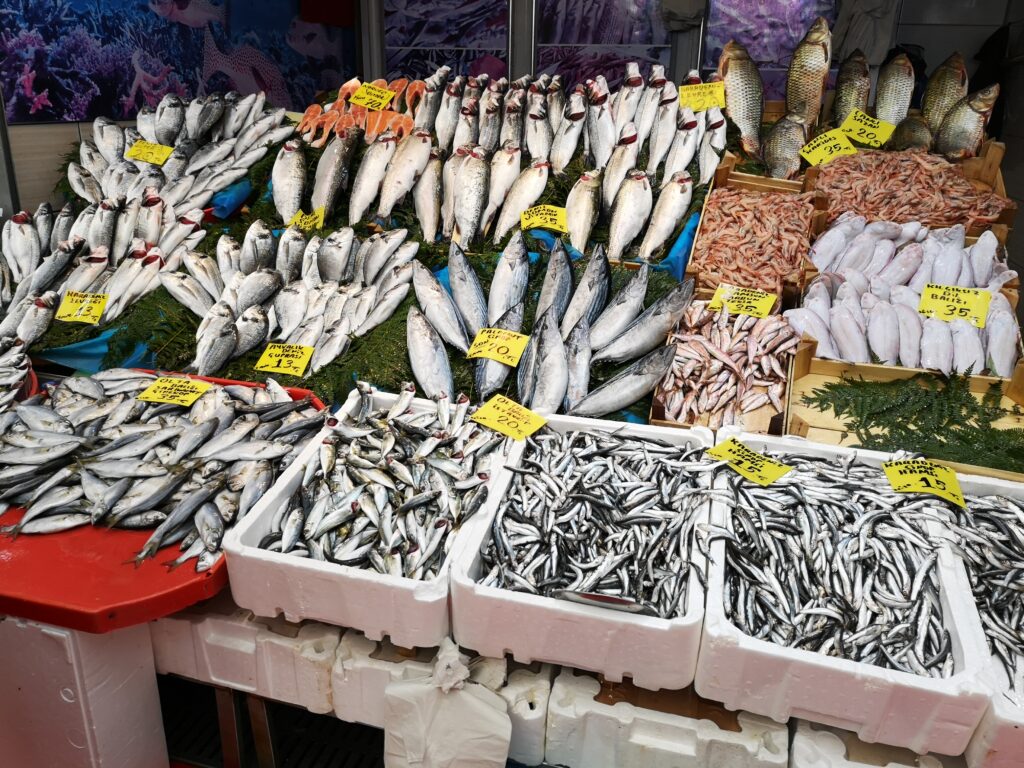 This is the kind of place where you can find yourself sitting at a street corner bar table enjoying an Efes or three and you decide that a bowl of nuts isn't quite enough but on the other side of the street there is a decent looking restaurant serving up tasty portions of what you'd really fancy….. The thing is that you're comfortable. Do you really have to leave? Well not here. They'll just pop over and fetch it for you.
Opposite a bar we visit quite often is Reks Kokoreç. I mention this because it's a favourite of mine. Kokoreç that is. A local speciality, Kokoreç is lamb intestines spiced and tightly bound round a skewer rather like a doner kebab…. but better. Way better…. And Istanbul does great doner kebabs!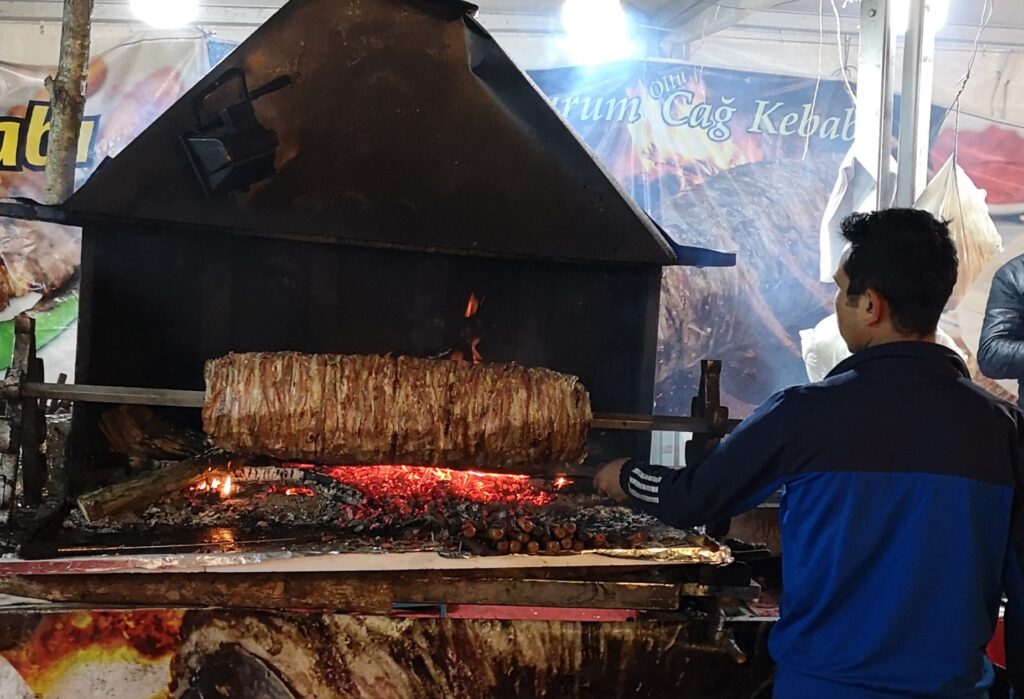 Served as a sandwich in plump, double fist sized bread rolls it is perfect pre beer, with beer, post beer or often, post too much beer food. In fact, hearty and tasty, it's perfect hangover food.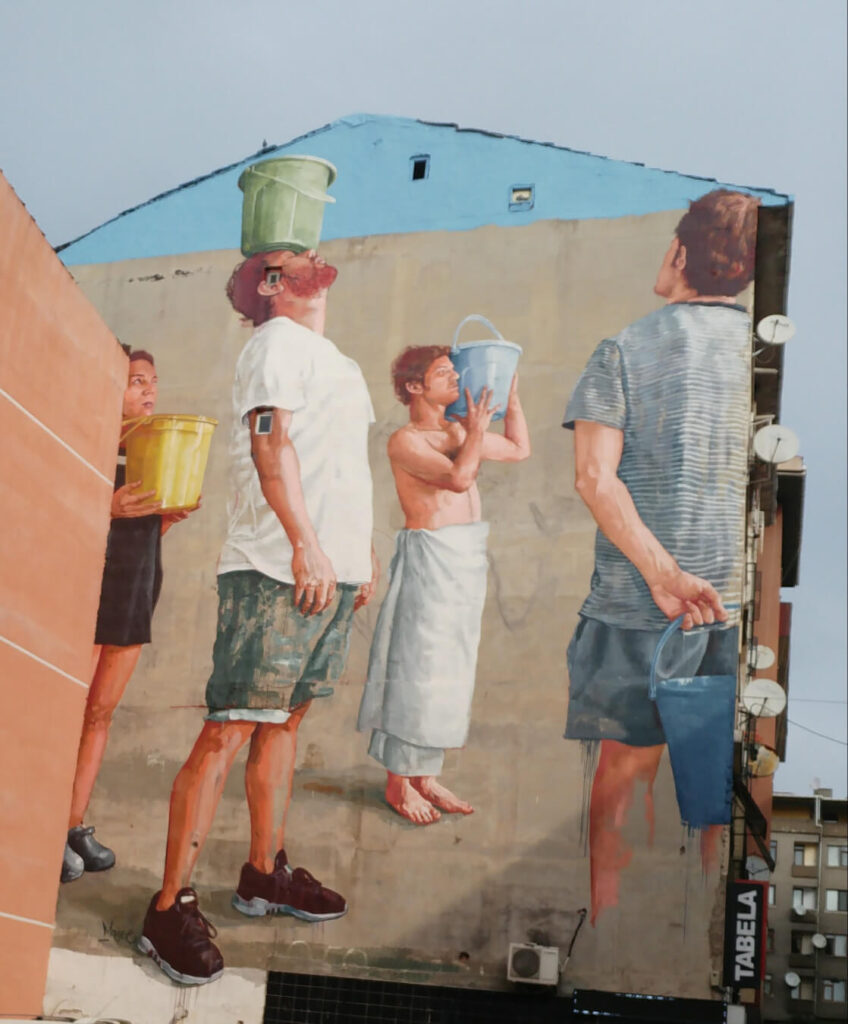 The restaurant has five tables inside and a few benches outside so it's small. But, and this is always a good sign, it's heaving with locals especially at the weekend. They fill the tables and spill out on to the streets in a lovely cocoon of conviviality. It's the kind of conviviality that, as an ex-smoker – and those of you who are ex-smokers will know exactly what I mean – you only used to find in the gaggles of smokers exiled to the street corners or doorways outside the pub where the craic was to be found. In Turkey they call that "Keyif" but that's another story. If you can't quite cope with Reks' "main event" they also serve tasty stuffed mussels and sandwiches made from sucuk, a spicy dry cured and grilled beef sausage.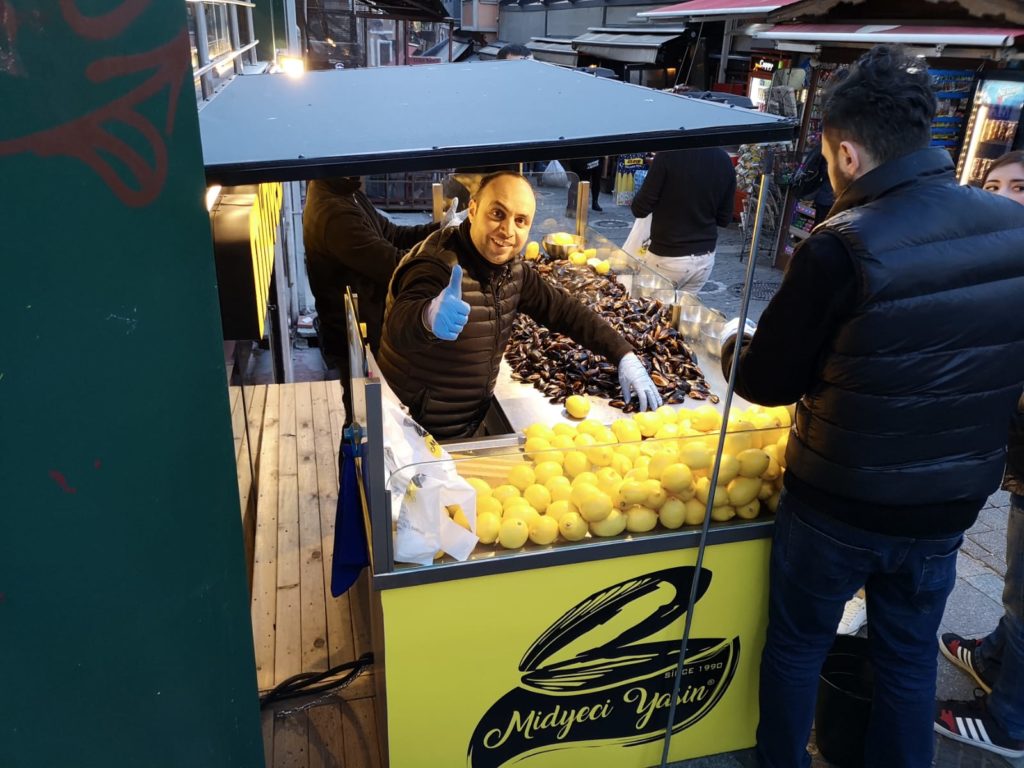 If you want something fresh, really fresh, it is here!
Frankly it's hard to highlight any particular restaurant because there's so much here, from street corner food served from hatches to posh restaurants; from corner Durums, pide, fish sandwiches or Mussels from stalls to well established and venerable restaurants, where haughty waiters serve heavenly Iskender Kebab or fresh, delicious seafood on beautiful china with silver cutlery and starched napkins. It's all here.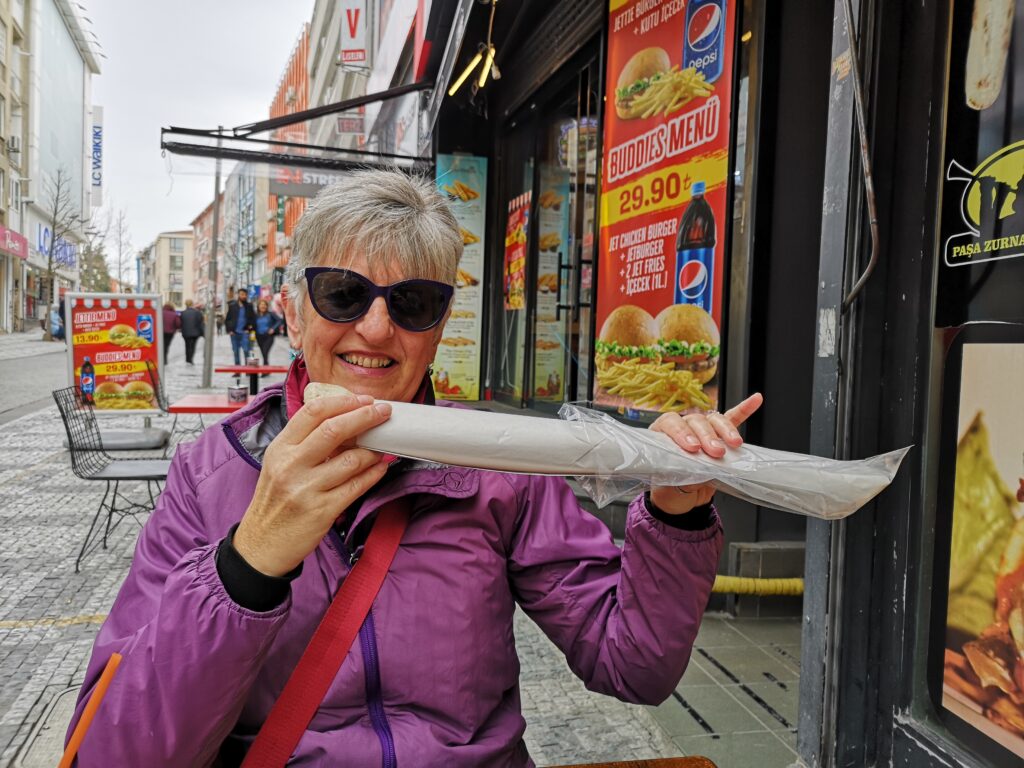 And then there is the street entertainment. It's varied and it's diverse. There's western music, Turkish music, folk music and groups of youngsters who simply setup a speaker and an MP3 player and dance traditional dances, just because…….
You'll see Classically trained musicians across the spectrum to the old lady who used to set up on a bench opposite Kadiköy's Theatre with a portable karaoke machine and sing Arabesque songs in a performance that was as heroic as it was awful. But nobody minded because Kadiköy is that kind of place and she enjoyed it, so who is to judge? In fact, if you were unfortunate enough to have based yourself on the European side of Istanbul – because that's what your tour company told you to do – your first taste of the Kadiköy street music scene could well be on the ferry crossing the Bosphorus to Kadiköy.
The Istanbul Municipality, which runs the larger boats, often licenses street musicians – checked for quality – to set up on the ferries to entertain the travellers and commuters. And they are good. Very good in fact. What better way to start a day out than listening to talented musicians as you watch the Golden Horn and Istanbul's incomparable skyline receding over the stern of your ferry as it threads its way through the busy Bosphorus shipping lanes to Kadiköy? What you won't see in Kadiköy is an ancient church; you won't see an impressive castle; you won't see an Imperial Mosque; you won't be seeing a dusty museum and you definitely won't see a tour guide with a coloured hanky waved in the air on the end of a stick leading a group of bewildered tourists through the crowds. What you will have, is an absolutely fabulous day out.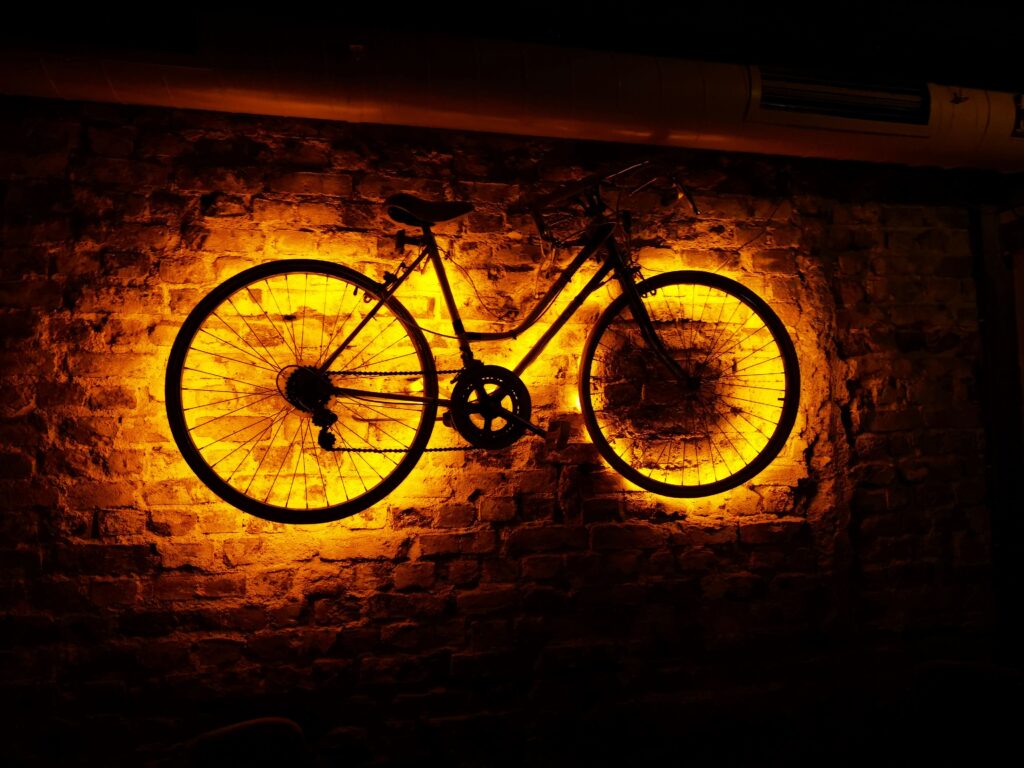 Taking a time out in the shoreline park at Moda or along the sea front you can enjoy the view of the Bosphorus and that incomparable Istanbul skyline you saw on the way over. If you think about it, it's a view you don't get on the European side. The way I see it, I don't think that the citizens of ancient Kadiköy were blind at all!
Kadiköy and Moda is the place to be, to chill, to laugh, to explore, to dance and to eat. How do we know? We have been enjoying ourselves in this eclectic and lively neighbourhood for years. Go on, try it. Happy travelling. Sally and Nick
Kadiköy is an easy ride to Sabia Gökçen, Istanbul's second airport, which has superb domestic links, making it an excellent jump off point for cities such as Sanliurfa, Bodrum, Mardin, Diyarbakir, Van and Kars. It is also the terminus for the high speed train to Ankara and Konya, an experience not to be missed. Why not add a short extension to your trip to Istanbul?
---